Hardscapes are the backbone of your landscape
At Lowney's Landscaping we rely on hardscape elements to lend structure, order, stability, direction, strength, and the illusion of permanence to landscape designs.  More often than not these features serve the dual purposes of serving a legitimate function (such as a path for strolling, or a patio for entertaining), as well as providing a much sought after decorative element to the landscape.
We are proficient in the use of brick, concrete and/or stone hardscape elements, and our installation services include: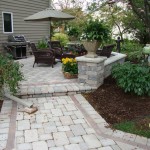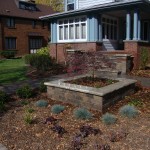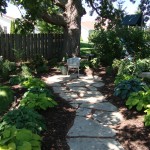 Patios
Walkways
Driveways
Entryways
Garden Walls
Retaining Walls
Grilling Stations
Fire Pits & Places
Adding a custom paver driveway, patio, or walkway will add a lifetime of maintenance free value and beauty to any property.  Pavers remain a popular alternative to poured concrete.  With regular frost a concrete slab will crack and bust out, while pavers have the flexibility to withstand the elements.  Pavers come in a variety of shapes, sizes, and colors, in clay or concrete.
Retaining Walls
A block retaining wall is an attractive and efficient way to maximize your commercial or residential site.  Retaining walls can be used structurally to hold back a grade, or cosmetically to enhance your landscape design and improve your property.
Natural Stone
Before the advent of brick and concrete, stone was the building material of choice for long lasting paths and walls.  Despite all of our technological advances, stone is still an amazingly reliable, and beautiful option for the commercial or residential landscape. From flagstone paths and patios, to stacked stone walls, to decorative field stone groupings, stone remains versatile and visually appealing.
Please contact us via phone or email at (920) 733-2560 or

info@lowneyslandscaping.com

 with questions or

estimate

requests on the addition of hardscape elements to your landscape. We are currently seeking qualified personnel.  Please visit our 

employment page

, or contact us at (920) 733-2560 or 

info@lowneyslandscaping.com

 for details.